Last Month, Dr. Melissa Kounine joined the Washington Orthopaedic Center. Dr. Kounine is a board certified orthopedic surgeon who specializes in total hip and knee replacements, and holds additional specialization in treating orthopedic cancer cases. She received her fellowship training at the University of Miami in orthopedic oncology and later spent time practicing and teaching at the University of Toledo Medical center in Toledo, Ohio, where she was the Chief of Orthopedic Oncology, an Assistant Professor, and Associate Director of the Orthopedic Surgery Residency Program.
Dr. Kounine joins the team from Hillsboro, Oregon, where she worked at a private practice following her employment for Kaiser Permanente outside of Portland. Her career has taken her all over the U.S., but Dr. Kounine is pleased to be in the Pacific Northwest, a place that she especially loves for its natural beauty which is ideal for hiking and winter sports, two of her pastimes.
Dr. Kounine says she prefers working in a private clinic setting like Washington Orthopaedic Center because it allows her to spend more time with her patients and individualize their care. She aims to give her patients the best treatment for their specific case by exploring both operative and non-operative plans with them to find the best fit for every person.
The Washington Orthopaedic Center is located next to Providence Centralia Hospital and serves patients five days a week. They also have a new location in Tumwater. Dr. Kounine is available to see patients at both locations.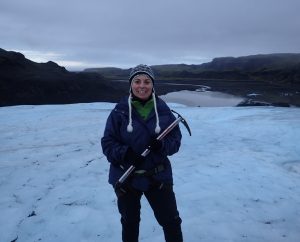 Patients of all ages and walks of life come to Dr. Kounine for medical evaluations. She provides each patient with quality care, finding the best treatment option that will allow them to return to their regular activities whether that is a sport, caring for horses or livestock, gardening or simply walking their dog on the beach. She finds that each patient comes with a unique story. Her goal is to return people to the activity level they were at before, as quickly as possible.
With more than 300,000 hip replacement surgeries performed in the U.S. every year, surgeons like Dr. Kounine look for ways to provide the best possible care for their patients. They accomplish this in many ways, including a modern approach to surgery called a direct anterior approach, or DAA. Dr. Kounine works between the muscles for the joint replacement instead of cutting directly through the muscle when performing a DAA. The less invasive technique results in less downtime so the patient heals faster and can resume their regular activity levels again. Researchers at the Mayo Clinic in Minnesota found that patients who had a DAA hip replacement experienced a faster recovery rate than patients who received the more traditional hip replacement surgery.
Dr. Kounine offers outpatient joint replacement as an option to some patients. For most joint replacement, patients can expect to spend two to three days at the hospital. While outpatient joint replacement is only available for selected cases, these patients can expect to go home the day of the surgery. Reduced hospital stays are associated with reduced downtime following surgical procedures.
Minimally invasive modern surgical techniques and outpatient care are just two of the ways that Dr. Kounine can help her patients return to the activities they enjoy.
Dr. Kounine joined the Washington Orthopaedic Center team on March 1, as Dr. Keith V. Anderson prepared to retire at the end of March. Dr. Anderson practiced at the Washington Orthopaedic Center for 27 years, after service as chief of staff at Providence Centralia Hospital, and spent many years volunteering at numerous hospitals overseas. Dr. Anderson says that he leaves the practice in the capable hands of a great team, which includes Dr. Kounine. Speaking of his time practicing at Washington Orthopaedic Center, Dr. Anderson states, "It's a pleasure to work in an office that shows genuine care for each other and genuine concern for our patients."
Dr. Kounine had been at Washington Orthopaedic Center less than a month when I spoke with her, but she was already enjoying her time with the practice and felt welcome in the local community. She looks forward to serving many patients in the Centralia and Olympia areas for years to come.
Washington Orthopaedic Center Olympia is conveniently located at 1900 Cooks Hill Road in Centralia Call 1-800-342-0205 for more information or to schedule an appointment, or check them out online.
Sponsored