Lake Mayfield Resort & Marina is a hidden gem in the forest. Here you'll find everything a family could need for a great vacation. Many people stay for an entire week and enjoy nearby mountains, forests and big cities like Portland and Seattle. Lake Mayfield also offers year-round trout fishing, along with Tiger Muskie and other species.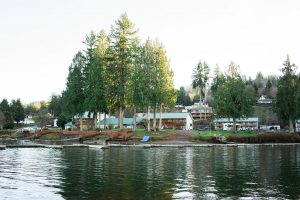 Lodging options include tent camping on the mainland or – for a real adventure – on the island. RV sites are the resort's most popular option. Those who don't want to camp can stay in a full lakefront house, family suite or cozy bungalow.
Johnson Terrace is located on the upper level with a beautiful view of the lake. Winton Cove is co-owner and General Manager Trent Richardson's favorite because it's right on the water and has a kitchen. All properties have incredible water views.
Lake Mayfield Resort & Marina is a family business, owned and operated by Trent and his parents, Dannie and Joy. "I feel that we have come back to our roots here," Joy says. "Trent found this place and it was perfect. It all came together like it was meant to be."
Before embarking on this family enterprise, Trent worked in hospitality in Alaska. "That gave me the basis for the resort business," he says. He also spent 15 years as a massage therapist and earned a degree in biology.
Trent's new wife, Tiffany, enjoys her time at the resort relaxing in between her busy schedule as a student and legal assistant. The family enjoys hunting for edible mushrooms in the spring and fall, and snowshoeing in the winter. "It's really cool being in Lewis County," Trent says. "Even after all the places I have lived, I love Washington. Lewis County has so much to offer people."
Trent's daughter, Ireland, is a senior at Mossyrock High School and a Running Start student at Centralia College. She volunteers at Point Defiance Zoo and Aquarium, and plans to follow in her dad's footsteps, earning a degree in biology. She also plans to earn her doctorate in zoology. She works in the resort's restaurant during the summer.
Lake Mayfield Resort & Marina's annual island Easter Egg hunt is a big event open to the public. This offers a unique way to celebrate Easter with six-thousand hidden eggs and special prizes for the number found. The resort's main beverage supplier, L&E Bottling Company, provides water and snacks. The resort also offers a free lunch as part of the festivities. Volunteers from Applebee's bring the Easter Bunny and face painters. "It's all about giving back to the people who live here and who really help support us," Trent says. "It's so fun to see the kids return every year."
One little girl, whose family visits annually, wanted to win a new Keurig for her parents, whose own Keurig had just broken the day before. She was so sad, almost in tears, when they were all gone. So Trent found her another one. She got so excited she started crying in response. "To see somebody go through those emotions and what an impact something so small can do, makes it all worth it," Trent says.
Trent and his family love the people who come back every year. "That is fun – seeing the kids grow up," he says. "If a person or pet has passed, we miss seeing them. You share the good times and the bad times with people … The good part is how much people become your family. Growing up, there were always people in our house and this still feels like home. It's a business but there is this aspect of friends always coming and going. So, to find a business that relates to what I grew up with is awesome."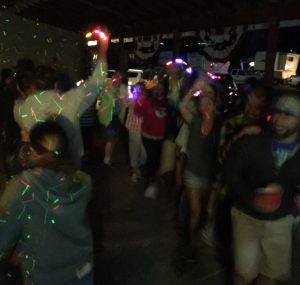 There is a real family aspect to resort life. "Our staff have come back year after year," Joy says. "We blend in as a big family with the staff, and our family just kind of extends. The whole resort runs and flows as a family."
Day use passes are available for those who would like to experience the beauty of Lake Mayfield Marina & Resort. Trent invites everyone to come on down and have a burger and a Pepsi or beer at the Lakehouse Cafe during the summer. With a marina, boat moorage and boat rentals, Lake Mayfield Marina & Resort is a standout option for families looking for fun.
Lake Mayfield Resort & Marina
350 Hadaller Rd.
Mossyrock
360-985-2357
info@lakemayfield.com
Sponsored