Our Pacific Northwest region has come to embody passionate coffee culture and way of life. It's a culture that is—at its heart—global and welcoming. The National Coffee Association explains that, "Coffee was not only enjoyed in homes, but also in the many public coffee houses … The popularity of the coffee houses was unequaled and people frequented them for all kinds of social activity. Not only did the patrons drink coffee and engage in conversation, but they also listened to music, watched performers, played chess and kept current on the news. Coffee houses quickly became such an important center for the exchange of information that they were often referred to as 'Schools of the Wise.'"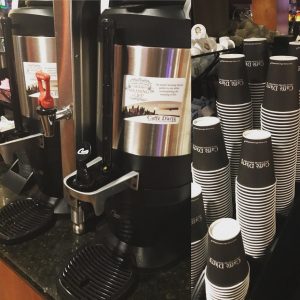 Though coffee has existed for hundreds of years, it's more than just a beverage. Its perfection and enjoyment are something best shared with family, friends and chosen community. At Quinault Beach Resort and Casino, old melds with new to create Quinault Alderwood Traditional roasted coffee. Now for sale to drink and purchase through their on-site coffee bar, this handcrafted specialty is a perfect combination of history, craft and taste.
Thanks to Seattle-based Caffé D'arte, Alderwood Traditional coffee is roasted over real wood flames in an Italian-made machine from the 1940s. "Smoking with Alderwood is a proud part of the Quinault tradition and Café D'arte has enabled us to extend that tradition into the modern age," explains David Martin, member of the Quinault Nations Enterprises.
"It just seemed a natural partnership," says Joe Mancuso, General Manager of Caffé D'arte Coffee roasters. "We're masters in wood roasting and utilizing the Alderwood like the Quinault have done just made sense."
Professional roasters explain that despite the old-fashioned process, this type of hand-crafting just makes sense. "Too much fire and the bean burns, too little and the flavor is compromised," Mancuso says. "Why Alderwood, you ask? Because it's a Northwest tradition. A flavor and taste introduced by the Quinault tribe when smoking their foods, with a unique character and flavor profile."
Mancuso and his team work with each flavor variety of coffee in a slightly different manner to maximize its inherent uniqueness. This is true whether you order a simple cup of drip coffee or a frothy, sweet latte. Fresh roasted beans are also available to take home in the Resort's gift shop, QMart stores and will soon be sold online. While visiting, try Café D'arte' s Meaning of Life blend for a quick pick-me-up.
Nationwide, reports show across the board increases in the frequency of daily coffee consumption. This is especially true when the coffee is considered gourmet, "a record-high 59 percent, compared to 46 percent in 2012."
Slow roasting hand-chosen beans in a 70 -year-old wood-fired technology is nothing if not gourmet. And thanks to Quinault Beach's commitment to fine dining, locally-sourced ingredients and Native American techniques, it will be around to stay.
When dropping by for a cup of Alderwood Traditional, why not look over the current gaming, dining and resort promotions? There you'll find amazing deals whether you choose to eat, stay or play. Or turn your visit into a staycation with the Java Café Getaway, which naturally includes two 16-ounce coffees.
Close to home but a world away, Quinault Beach is the ideal escape. Other overnight packages include the Prime Experience, which features Prime Rib for two at Emily's, the Lovers Retreat with champagne and strawberries, or the family-friendly Razor Clam Festival and cook-off.
Book stays online or by calling 888-461-2214. Look over the current crop of specials for discounted room codes to use when booking.
As winter rolls into spring, our bodies and minds start to awake from hibernation. "We want to do a lot of stuff," says Comedian Jerry Seinfeld. "We're not in great shape. We didn't get a good night's sleep. We're a little depressed. Coffee solves all these problems in one delightful little cup."
Quinault Beach Resort and Casino is located at 78 State Route 115 in Ocean Shores, less than two hours from Centralia. Visit them on Facebook for news, photos, reviews and more.
Sponsored