Tom and Karen Alderson have been part of Alderson's Awards West-Printwares since 1986. Originally founded in 1972, the business's longevity can be attributed to their community involvement, local businesses relationships and connection with family and employees. Tom, who is the general manager and has roles in sales and production, enjoys working with his wife, Karen, and son, Alex.
The couple's grandsons are also familiar faces at the production facility and storefront. Tom and Karen's children and their cousins spent their childhoods playing there while the couple worked. Tom recalls the kids playing "store" and using the intercom. The kids, now in their 30s, reminiscence that some of their favorite childhood memories took place at Alderson's Awards West-Printwares.
Today, Tom and Karen still host family dinners at their facility, showing that work and family time can happen simultaneously. "The kids love it here and it's a special time for us," says Tom.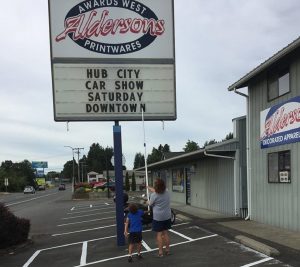 Alderson's has custom products for recognition, identification and promotion. In addition to working with products, Tom enjoys sales and customer contact. "We have some really nice people who buy from us," he says. "They are our friends."
Local schools turn to Alderson's for awards and other products. The company loves to give back by supporting youth events and sports teams all over Lewis County.
Tom and Karen's favorite way to give stems from their own tragedy. In the floods of 2007, the business took on two feet of water. "We were blessed to have people working here so fast, a lot of them from Centralia High School, teachers and friends of friends," recalls Tom.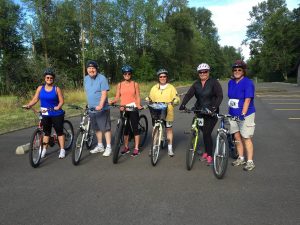 Today the company loves to help people affected by natural disasters. Recently they gave $1,000 to a woman who works in a Texas trophy shop after the floods. "Because we know what it's like to go through a flood and have homes destroyed," states Tom. "I would rather know exactly where the help is going individually – one person at a time."
This giving attitude is contagious. Brittany, the daughter of long-time employee, Kim Schrader, is completing her Adna High School senior project by selling Adna Strong T-shirts as a fundraiser for Hurricane Irma victims.
Currently, Alderson's is selling American flag T-shirts to benefit Veteran's Memorial Museum. "The museum is a customer of ours," Tom says. "They require a lot of signage and we got to thinking about how we could give back to them. Our goal is to raise $1,000 for the museum at $10 a T-shirt. One-hundred percent of the money goes to them."
The company's "under one roof philosophy" was intentional, but evolved naturally. The business' history is rooted in engraving. "That's what we have done since day one and all the other elements have been added," recalls Tom. "The same customers would order one type of product and it would evolve to more to meet their needs. Starting from industrial engraving to awards, screen printing then piggybacked by the embroidery and, finally, signs and banners. Now it's a lot of promotional products from pencils and water bottles to balloons. That became the final piece of the puzzle." Alderson's is always looking to the future to anticipate what their customers may need.
Tom knows there are a lot of custom product options available locally and on the internet. What Tom doesn't see is competition. He feels that if the customer's needs are taken care of, that's what is important. "It's amazing the comradery," he says. "If we can't do something, there are three or four other companies in the area that can do it. We will happily refer people and, in all fairness, those companies reciprocate back to us. I think it's a small-town thing. It speaks to the desire to serve the customer and that extends outside of the walls of our business. It's a triple win for us, for our competitors and especially the customer."
Tom laughs that he is the "worst supervisor ever," but he does hire good people. He employs individuals who don't need much managing and are self-motivated. The eleven employees and three family members working there understand what needs to be done and have a mutual respect for each other. "Customer service is what makes us stand out, yet I think when it comes to custom work, seeing and feeling the quality of the product is also important," he says.
For Alderson's Awards West-Printwares, it's also about the people they serve. "We are grateful to work in this community," Tom says. "The community certainly treats us well."
Sponsored