Armed with just a pair of flashlights, Brandon White and 13 of his teammates headed into the darkness. Some were veterans of calm digging. For others, it was a new experience. Either way, out on the sand before the sun had even made an appearance, it was definitely an odd place to find a high school basketball team.

Over the course of the next hour, members of the W.F. West boys basketball squad would successfully round up just two calms. More would come later once the daylight popped up, but it was hardly a hefty haul.
"I think we had enough to make one pot of chowder," said Bearcats' head coach Chris White, Brandon's father, who added that the team's final tally was 14 for the dig. "But we made a lot of good memories."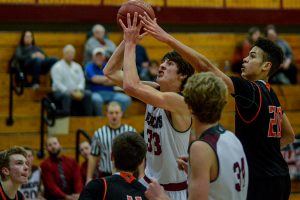 The weather was adequate, the digging was bad and while it will, ultimately, do little to help the team enhance their man-to-man defense execution or improve their free throw shooting, a strong camaraderie goes a long way on the basketball court – something that the experience more than achieved.
"We're getting closer as a team. It's getting better with every game, every practice," said Brandon, W.F. West's versatile 6-foot-8 forward. "Last year we were doing well, but it wasn't really us playing together as a team. This year everyone seems to be on the same page."
Chris, now in his third season with the Bearcats, inherited a winless program and has quickly turned them into a 2A Evergreen Conference title contender.
It's a far cry from the season which occurred prior to his being named head coach. And while he wasn't there, his son remembers that year, his freshman campaign, all too well. Brandon recalls the pre-game vibe the team would project prior to tip-off. It was unlike any other sports program at the school.
"It was a weird team mentality my freshman year," said Brandon, who was a second-team all-2A Evergreen Conference pick last year. "I think with every other sport at this school they go into a game, not overly confident, but knowing it's going to be a game. Every game my freshman year when we stepped out onto the court we were expecting to not win."
And the team did just that, dropping all 21 of their games.
Enter Chris the following season and the Bearcats began to find their footing – winning five games three years ago before doubling that win total last year and returning to the distance playoffs.
Spearheaded by a strong senior class, W.F. West took just six games this season to match their win count from two years ago.
"It took a lot to get from where we were to where we are now," Brandon said. "It took a lot of work over the summers to get to this point. It just takes time to develop confidence in yourself and in your team. It just builds up over time. I think we're just getting everything together and it's clicking right now."
With their unselfish play on offense, the Bearcats rolled through the early portion of their non-conference slate, with three of their five victories coming by 20 points or more and all five being by a 15-point margin.
"It's been a real challenge, definitely an uphill battle, but it's been a lot of fun to overcome it," Chris said about building up a once-winless program into a conference title contender. "I'm really happy with how things are progressing so far. We have a lot of kinks to work out, but it's definitely heading in the right way."
In addition to Brandon, the seniors on the team also include Camden Bull, Bailey Cooper, Bryce Dobyns, Jordan Waring, Nole Wollan and Jordan Thomas, a transfer from Centralia who was a first-team all-conference guard last year for the Tigers.
"I've actually been with these guys since they were little," Chris said. "I've coached the seniors since they were fourth graders. It will be real emotional when this ride is over."
Missing from the lineup, however, is 6-foot forward Dakota Hawkins, a two-time all-conference selection who suffered a season-ending torn ACL.
Bull, a 5-11 forward who Chris White labeled as a, "get on the floor, hustle guy that makes a huge difference in games," has also missed time because of injuries, but is expected back as conference play rolls around.
"We're missing some important pieces, but the kids have rallied," Chris said. "You also have to give huge credit to the assistant coaches. Our coaching staff has been so dedicated. They are always putting in extra time."
The Bearcats begin their quest towards a conference championship on January 3 when they host Black Hills.