From early on, Richard Lamour was interested in science and medicine. Growing up with his two siblings in New York, he spent his summers volunteering in the genetics lab at Columbia University. His mother was a lab technician in the same building so she was comfortable with the arrangement.
Lamour went on to play four years of college football at John Hopkins University in Baltimore, Maryland after his graduation from high school. As a busy college athlete, he remained committed to academics and graduated with a degree in natural sciences. The physicians at the Columbia University genetics lab gave him a letter of recommendation that helped earn him a spot at the Ohio State University College of Medicine in Columbus. From there he continued his education by completing a residency at the University of Miami Jackson Memorial Hospital in South Florida.
Still not down learning, Lamour went on to complete advanced fellowship training in orthopaedic sports medicine at the Andrews Institute for Orthopaedics and Sports Medicine in Gulf Breeze Florida. While there, he trained with one of the nation's leading orthopaedic surgeons, Dr. James Andrew. Andrew is also one of the founding members of the Andrews Sports Medicine and Orthopaedic Center in Florida and co-founder of the American Sports Medicine Institute (ASMI), a non-profit institute dedicated to injury prevention, education and research.
During his residencies, he gained extensive knowledge and experience treating athletes from the University of Miami football, Miami Marlins baseball, Auburn University football and Fresno State basketball teams.
Lamour completed an additional fellowship in foot and ankle surgery at the Las Vegas Orthopaedic Foot and Ankle Institute in Las Vegas, Nevada.
Moving West
While in Las Vegas, Lamour met his wife Erin, a pediatric dentist from Portland, Oregon. Erin's family roots in the Pacific Northwest drew the Lamours to the Olympia area. "I have lived in almost every region in the country," says Lamour. "I love the easy-going nature of people in the area and the small town feel with big city amenities."
He loves the fishing, crabbing and boating that our area has to offer, but what really drew him to Olympia was the quality of care offered at Olympia Orthopaedic Associates. "I immediately saw that the physicians at OOA are very passionate about delivering exceptional care to patients," shares Lamour. "The practice makes it easy for the practitioners to provide that care, which really attracted me to the group."
Lamour's extensive training will allow him to provide high-level care in both the Foot and Ankle Clinic and the Sports Medicine Clinic – he will be seeing patients in the Olympia Orthopaedic Associates Eastside clinic as well.
"I love the broad range of patients that I get to treat in the foot and ankle clinic," says Lamour. "I enjoy patients of all ages and helping patients with issues from arthritis to trauma."
Lamour was also attracted to the commitment that Olympia Orthopaedic Associates has made to the disadvantaged members of the local community. While in medical school, he volunteered in several low-income clinics in Columbus, Ohio, providing care to the homeless and needy. He also helped lead a summer program for high school students interested in medicine, called MD Camp.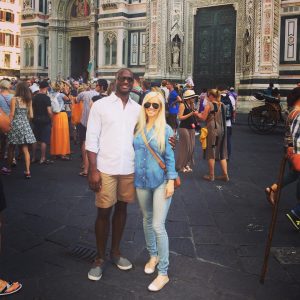 He and his wife Erin spend as much time as possible outdoors hiking and enjoying the water. They have both enjoyed getting to know the community. After taking some time off to enjoy his new family and settle in, Lamour is eager to begin seeing patients at the OOA Eastside Clinic.
If you would like to schedule an appointment with Lamour please call 360-529-5572.
Olympia Orthopaedics Associates has been a part of Thurston County since 1972 and is the largest full-service orthopaedic group in the South Puget Sound area. Their other sub-specialty program include hand, wrist, elbow, spine, and neuro. Other services available are Pain Management, Sports Medicine, Physical Therapy, on-site diagnostics and Outpatient Surgery including Total Joint replacement.
Sponsored