My youngest son's Boy Scout troop went to camp this year in Idaho on Lake Coeur d'Alene. It seemed like a great camp for him to earn his Fishing Merit Badge. One of the requirements, not surprisingly, is to catch a fish. But at camp so many of the activities are early and late, and free time to fish is in the middle of the day. Now add to that a daytime temperature in the high 90's, and my little man had a hard time catching any fish at all.

Now that he is home, we've been looking around for a great place to fish in Lewis County. As it turns out, Lewis County is the place to go for stocked lakes, amazingly beautiful locations, and a variety of experiences, from accessible lowland lakes to high country locations. With the help of the Washington State Department of Fish and Wildlife, we have broken down the best locations this summer by category, what's being caught, and the best bait.
Lowland Lakes Fishing
For the best kid-friendly lake that has great shoreline access, try Carlisle Lake in Onalaska. In addition to the natural scenery of this lake and its history as a Mill Pond (complete with smokestack), Carlisle Lake has a fitness trail that goes all the way around. This creates many nooks and crannies, making quiet places to fish. Small boats are allowed on the lake, while the fisher folk I ran into were catching Trout and Panfish from the shore.
South Lewis County Park Pond, located in Toledo, is a full park with a playground and picnic areas. One side of the lake is set up with multiple fishing docks for easy access and is host to a fishing event each year called the Black Friday Opener. The pond will be stocked with 2,000 Rainbow Trout for this event, weighing in at 1.25 pounds each. Fort Borst Park Pond is located in Centralia and also has a playground for the kids, dog park, trails and the Borst Home Museum nearby. The shoreline of this park is simple, and access is easy, though the pond levels were low on my last visit.
The best boat lakes are Mayfield Lake and Riffe Lake, which are large bodies of water that are fun to boat on, whether fishing is your aim or not. Mineral Lake offers a small boat launch, and boat rentals are also available.
One of the best Trout lakes this year is Lake Scanewa, which was once known as the Cowlitz Falls Reservoir. Located southwest of Randle, you can camp nearby at Cowlitz Falls Campground. In addition to Trout, you might also catch Salmon or Steelhead at this location. Mayfield Lake offers an abundance of shoreline and boating opportunities for Trout fishing, too. If you want to camp at this location, give Ike Kinswa a try. Mineral Lake is another great Trout location. The Mineral Lake Resort boasts that it's the "home of the 10 pound Trout." Indeed, the lake is planted with 100,000 Rainbow Trout each year.
The best warm-water lakes for catching Bass and Panfish this year are Carlisle Lake, which is a great place to catch Bass; Riffe Lake for Smallmouth Bass; South Lewis County Park Pond for Bass and Panfish; and Swofford Pond for Channel Catfish and Panfish. Just a note: while you are at Swofford Pond, it is also a great area to view wildlife.
Hot Spots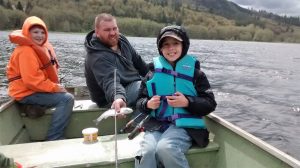 According to the Washington State Department of Fish and Wildlife, the hot spots this year are plenty. "South Lewis County Park Pond and Carlisle are both doing really well for Bass and Panfish (use jigs; worms). Swofford Pond is producing very nice Channel Catfish (use stinky baits). Mineral Lake continues to do well for Trout fishing (use worms; spoons). Riffe is producing nice Smallmouth Bass, but anglers should be aware of lake levels (use plastic grubs)."
Best Highland Lakes
If you are in search of a location that offers more of a challenge, then High Lakes Fishing might be your thing. There are many locations to explore in the Gifford Pinchot National Forest. One of the best locations this year is Bluff Lake, which is an easy hike. Cutthroat Trout are doing well there this year. For a more challenging hike, try Lost Lake, which is also doing well for Cutthroat Trout. A lake that is accessible by horseback is Snow Lake, where the Cutthroats are biting. Another location that is always a pleasure is Packwood Lake. No reports are in on how the fish are there, but the hike is moderate and the lake has gorgeous mountain views.
For more information on fishing Washington's Lowland and High Lakes, visit http://wdfw.wa.gov/fishing/washington/
Remember to stay up to date with season dates and restrictions at the various locations.
And now that I know the best places to fish in Lewis County this summer, my son and I just need to get out there when the fish are biting.