We love our pets. We do our best to take good care of them. But sometimes life's circumstances prevent us from doing that, and we need to know that there is someplace safe that loving people will take care of our fur babies. Or maybe we are able to take care of our pets but we see abandoned, lost or stray animals hanging around looking scared and hungry, and know they need a place to go.

So what do people in a community do when they notice a problem with stray and unwanted cats and dogs? Especially a community far away from services available to larger communities? They don't wait for "somebody" to come and help – they band together to take care of the problem themselves. And according to Cathy Kane, volunteer with Randle Pet Ministry and now Pet Friends of East Lewis County, the idea won the heart of the entire community.
Randle is an hour away from the Lewis County Animal Shelter. There are limited resources in the area. So the community could only rely on itself to tackle the problem. And they did, by setting up the Randle Pet Ministry. The Methodist Church helped, Fischer's store supported the needs with a pet food and litter drive, and local veterinarian Dr. Pat Roden of South Fork Veterinary Services provided free spaying and neutering.
"We literally could not have done this without him and his office assistant, Kim Ostlund," explains Kane, reporting that in just over six years, over 600 cats and dogs have been spayed, neutered and found homes.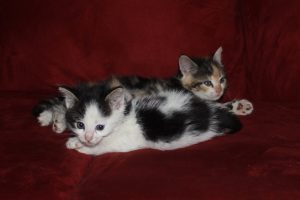 However, Dr. Roden has reached that time where he is ready to retire in September and rightfully so. But in seeing the difference the services have made for the animals, the community has come up with a new plan.
After speaking to Amy Hanson at the Lewis County Animal Shelter, they have formed a new partnership now known as Pet Friends of Lewis County. Pet Friends has an established a large group of volunteers – people who will transport abandoned and stray animals to the shelter in Chehalis. "We're pleased that the shelter's euthanasia policy is the same as ours. Which is, they don't do it unless it is an extreme case," says Kane.
Pet Friends also has homes that will foster kittens until they weigh two pounds, and then they can go to shelter. In addition, if the shelter doesn't have room for animals, Pet Friends has other foster homes set up to take care of them until they can be housed at the shelter.
The community will also be continuing to solicit contributions to help sponsor pets in the shelter and pay half the cost of adoptions. This is with the hope that brothers and sisters can be adopted together.
The new partnership helps both entities. "The Lewis County Animal Shelter has a shortage of staff so our partnership enables them to provide services to East Lewis County with our volunteers," explains Kane.
In addition, if someone calls and needs help, Pet Friends will look for options. For instance, someone in Morton had five cats that she wanted to keep, but they needed to be spayed and neutered. Kane says they try to help by finding and offering alternatives such as low-cost spaying and neutering. "It's on a case-by-case basis," she explains.
Kane has nothing but appreciation for Dr. Roden's work, saddened by his retirement, but understanding it as well. She also has high praise for Amy and the staff at Lewis County Animal Shelter. "They have been so helpful and cooperative," she beams. "So far it is working out very well and the animals are placed in homes very quickly."
Lewis County Animal Shelter staff member, Robin Williams, agrees. "We've already taken in one dog that we were able to adopt out, as well as some cats and kittens. This time of year, there are a lot of cats and kittens out there and people are more than welcome to bring strays to us. If we have room we can take them, if not we will be working with Pet Friends to find foster homes. People from East Lewis County are welcome to call us as well and we can always connect them with Pet Friends. We think this is going to be a very successful partnership."
As with any group staffed entirely by volunteers, Pet Friends of East Lewis County could always use more volunteers. Help can come in many forms such as transportation of stray or lost dogs and cats to the shelter, donations of dog and cat food, cat litter and cleaning supplies to the Lewis County Animal Shelter.  More volunteers are also need to foster dogs, cats, kittens and puppies, as well.
Donations can be made to the Lewis County Animal Shelter located at 560 Centralia Alpha Road in Chehalis or at South Fork Veterinary Services located at 1035 Highway 508 in Chehalis until Dr. Roden retires.
To volunteer with Pet Friends of East Lewis County, you can contact Mary Ostrem at 360-496-5163 or Cathy Kane at 360-496-1382.