This year, Old Dominion headlines the Pepsi Stage at the Grays Harbor Fair. The locally acclaimed Olsen Bros. Band from Olympia, a fan favorite that continues to grow in popularity, plus Puyallup's nationally touring a cappella group The Coats and Portland's award-winning Tom Petty tribute band, Petty Fever, also have concerts at the fair.
RCA Records' Old Dominion has, according to the group's website, "emerged as one of the hottest breaking bands in country music" and the press has called their music an "old-fashioned country charm, lyrical wit and rock n' roll grit" that features "radio-friendly hook-heavy pop nuggets." Entertainment Weekly said their first full-length album Meat and Candy is a "deceptively smart, occasionally cheeky, stellar debut."
The band hits the Grays Harbor County Fair Pepsi Stage hot off their spring tour with Miranda Lambert on her Highway Vagabond Tour and they spent last summer on Kenny Chesney's Spread the Love Tour. Their song "No Such Thing as a Broken Heart" has spent 16 weeks on the Billboard charts and is currently at number 15 and climbing. "Break Up with Him," the band's first platinum single, spent two-weeks in Billboard's No. 1 place and their country/pop crossover (skater) hit "Snapback," released prior to their third Billboard Top Ten single "Song for Another Time," was certified gold by the RIAA. Debuting new songs from their upcoming (August 2017) album "Happy Endings," at the concert, sponsored by Big Foot 107.3 and North Beach RV, Old Dominion is sure to please.
The band, recognized as the ACM and ACCA Breakthrough Duo/Group of the Year, has also been nominated for two CMA Awards: Best New Artist and Vocal Group of the Year and Favorite Duo or Group – Country for the 2016 American Music Awards.
Reserve seating tickets for the Wednesday, August 9 concert are now on sale at the Grays Harbor County Fairgrounds for $40 each. Those who purchase these tickets receive free fair admission. For those brave enough to take a chance, there is limited, general admission bleacher seating that's free with paid fair admission. See the fairgrounds website for details.
The Olson Bros Band, originating in Olympia, are known "for their energy on stage and sweet vocal harmonies." The band rocketed onto the country music scene in 2013 and in the summer of 2016 had more than fifty shows on their schedule, and they had an opening gig for a Craig Morgan. The group's lead singers and songwriters Luke and Isaac Olson won a Texaco Country Showdown songwriting award for their hit song "Sunrise." Their new single "Dangerous" has been enjoying a little play time on the radio waves throughout Washington. The Friday, August 11, concert is free with fair admission.
The Coats perform Thursday, August 10. The quartet vocalists are the Pacific Northwest's premiere a cappella band and they have shared the stage with dozens of acts such as Gallagher, The Beach Boys, Jay Leno, Trisha Yearwood and Eddie Money, during a career spans almost two decades. Their intensely arranged, yet hilarious, interactive show combines both music and comedy. They'll be performing classics and covers from Country to Christmas. The concert is free with paid fair admission.
The a multi-award winning Tom Petty and The Heartbreakers tribute band, Petty Fever, featuring the guitarist/vocalist and 2016 Hollywood FAME Award Winner, Frank Murray, will perform on Saturday, August 12. They're being presented by Bayview Building Materials of Elma and the Vaughan Company. The band won the 2017 Las Vegas FAME Award for Outstanding Tribute Band and the 2013 and 2014 Los Angeles Music Awards Tribute Band of The Year.
According to promotional reps, "Petty Fever delivers a stunning salute to Tom Petty and the Heartbreakers, perform over four decades of classic Petty hits." "American Girl," "Free Falling," "Breakdown," "Running Down a Dream," "I Won't Back Down" and "You Wreck Me" are just some of the Petty hits you'll hear. The concert, for fans of all ages, is free with fair admission.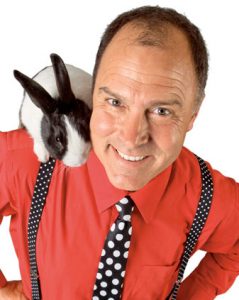 Also included with fair admission is the exotic animal rescue and educational exhibition, A Walk on the Wild Side (sponsored by Great Northwest Federal Credit Union and Sierra Pacific) and Muriel's Petting Zoo. Both take place daily. Dirt track auto racing action will be at the Grays Harbor Raceway on Saturday, August 12. A talent show, featuring local performers, takes place on Friday, August 11. Steve the Pretty Good, an award-winning comedian/magician, performs daily. And, if that weren't enough, musicians from Harbor-area churches will be playing for an all-comers Christian Entertainment Service at 10:30 a.m., Sunday, August 13.
The Grays Harbor County Fair runs August 9-13 at the fairgrounds in Elma, Washington. Admission prices are as follows: adults are $10, seniors (63+) $7, youth (6-15) $7, kids (under 5) are free. Thursday is Kids Day with a $2 discount for youth admission and a military discount is offered throughout the entire Fair. Plus, Admission is free for one hour only (from 10 a.m. to 11 a.m.) on Sunday of the fair. Parking is $5 per day. Carnival wristbands for unlimited rides will be on sale at the Fairgrounds Office, plus three Anchor Banks in Grays Harbor County (Elma, Montesano and Aberdeen)—pre-sales are $22; day of fair price will be $27 each.
Sponsored