More than a few people believed that when Ron Brown's son graduated from Centralia High School in 1984 the long-time Tigers boys' basketball coach would call it a coaching career. Brown had already clocked in 23 years at the helm of the program, highlighted by state championships during the 1979 and 1981 seasons, so it certainly didn't seem farfetched.
The truth is, he was just getting warmed up.
"Ron didn't just coach for his kid," said Larry Mollerstuen, who served on Brown's staff for 33 seasons. "He coached for all the kids."
After 56 seasons and 1,263 games, Brown announced in May he will retire from coaching.
The 82-year-old Brown, a member of the Washington Interscholastic Basketball Coaches Association Hall of Fame, steps down after guiding the Tigers to a remarkable 722 wins during his career – third all-time among state coaches.
Brown, who took a leave of absence from the team midway through the 2015-16 season for health reasons, trails only Ed Pepple (952 wins) and Pat Fitterer (728) on the state's all-time wins list.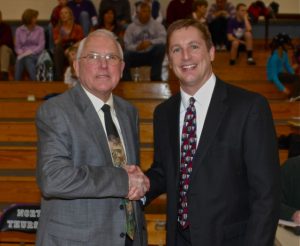 Unlike Pepple and Fitterer, however, Brown accomplished his win total at one school, and his 56-year coaching career is the longest ever in the state for boys' basketball.
"His longevity is unbelievable. I have known a lot of coaches over the years, both high school and college basketball coaches," said Mollerstuen, who joined Brown's staff during the 1981-82 season and coached as his assistant until 2015. "And no one is as organized as Coach Brown. I don't think he ever once used a computer. Everything he did, every practice, every game plan, he wrote down by hand."
A two-time Washington State Coach of the Year and 1999 recipient of the National Federation Interscholastic Coaches Association Section Eight Distinguished Service Award for Boys Basketball, Brown spent his first two years in Centralia as an assistant coach before taking over head coaching duties in 1961.
He guided the Tigers to 15 state tournament appearances with the first occurring in 1969. Centralia's first state title under Brown came in 1979 after his squad defeated Cleveland, 58-50, in the finals.
Two years later, the Tigers, led by future NBA All-Star Detlef Schrempf, raised banner No. 2 as they knocked off Black Hills League rival Timberline, 53-42 in the state championship game.
"Looking back, all the seasons were memorable when you were coaching for Ron, not just the championship teams," Mollerstuen said. "I think what I remember most is all the talks at half time and after games that Coach Brown would give to the team."
Each and every season, regardless of the talent level Centralia possessed, when opposing teams played a Brown-coached squad, they knew what to expect under Brown's watch. Some traits were constants no matter the decade.
His teams always hustled, always played hard-nosed defense and never had a problem doing the thankless grunt work, like diving on the floor for a loose ball or stepping in to take a charge.
"No one prepared like Ron. He always had his kids ready to play," Mollerstuen said. "They would always execute and play hard no matter what the score was, and defense really was a focal point for his teams."
The product on the floor was a direct reflection of their coach.
Fittingly, that floor at Centralia has been named Ron Brown Court.
"No matter the year, he always was able to connect with the players," Mollerstuen said. "He would never give up on a kid. He knew, even if they were a freshman or on C-team or JV, they were an important part of the program, and he always made them feel good about that."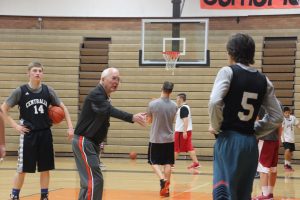 However, basketball was hardly Brown's lone contribution to the school. He taught government and history for more than 35 years at Centralia High School. In addition, he was the Tigers' head baseball coach for nine years, winning seven league titles during his tenure, coached the girls' slow pitch team for 10 years, guiding them to the 1991 state championship and was the head boys' tennis coach for three years.
In total, Centralia placed nine times under Brown, whose son, Tim, has won nearly 300 games since taking over the North Thurston boys' basketball program in 1994, at the state boys' basketball tournament, including a second-place finish in 1983 after the Tigers fell to Olympic, 54-51, in the finals and a fourth-place finish in 1991.
"I don't think we will ever see that again," said Mollerstuen when asked about the potential of another coach surpassing the half-century mark at one school. "It really is remarkable."