For Lyle Overbay, it was easy to admit professional baseball was over for him.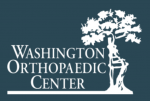 After playing in the major leagues for six teams spanning 15 years, he was ready to say goodbye to swinging for doubles and chasing grounders when the 2014 MLB season ended.
"I knew I was done," said Overbay, who played first base for Arizona, Milwaukee, Toronto, Pittsburgh, Atlanta and the New York Yankees.
But Overbay, a 1995 Centralia High School graduate and an 18th round draft pick of the Arizona Diamondbacks in 1999, wasn't ready to say goodbye to baseball for good. His goodbye was just as a player, not as a contributor. He continues to coordinate sporting events at Northwest Sports Hub at Borst Park in Centralia, scheduling tournaments with Dale Pullin year round for basketball, pickleball, wrestling, fastpitch, volleyball and – of course – baseball.
And with six kids, coaching is also part of the responsibility of being a dad.
"Now, I can be with my family," Overbay said.
After the 2014 season, and batting .233 for the Milwaukie Brewers, Overbay hung up his cleats and called an end to his professional baseball career that saw him play for Arizona his rookie season and reach the World Series in 2001. It wasn't a hard goodbye for Overbay. He was ready.
It was a moment he had prepared himself for.
"I always asked guys that were kind of at the end of their career: how do you know when you're ready to be done," Overbay said. "A lot of them would say: you'll know. It's different for everybody."
Overbay and his teammates over the years had a phrase for their 162-game schedule.
"We'd call it the daily grind," he said with a chuckle.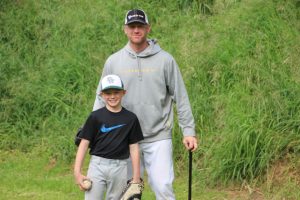 He'd get to the ballpark at 1:00 in the afternoon and sometimes stay as late as 11:00 p.m. after a game.
"I loved it," Overbay said. "I enjoyed the grind. The getting up and going to the ballpark. Getting prepared. Doing all of that. And all that comes with it, including the travel."
Then in 2014 all that charged-up excitement disappeared.
"My last year I dreaded every bit of it," Overbay said. "So, I knew I was done. I was ready to be done. I got to a point I was not able to perform to the level I thought I should be."
And at age 37, Overbay, who was named the Diamondbacks' minor league player of the year before going up to the major leagues, knew he had taken his last at bat.
"I've always told myself I didn't want to hold on to that position and take away an opportunity for a young kid," he said. "Ultimately you are. You're taking a roster spot from a kid that's never been in the big leagues. For what? For the struggle and being away from my family?"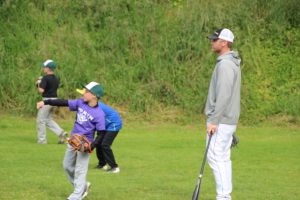 If he couldn't perform at the level he wanted, he didn't feel it was right to just try to hold on for another year on his contract or another year of baseball.
"It was a very easy decision for me," Overbay said. "When you have kids and you're missing things and they're missing things because they're with me and they don't get to play baseball or they don't get to play this or that. They don't have regular friends. They don't have regular schedules."
Overbay knows that the clock is ticking on his days of being a dad with little kids.
"I have a 13-year-old now," he said. "I've got seven more years with him before he's gone."
As a former major leaguer, as someone who set a team record for doubles in a season with 54 for the Milwaukie Brewers and as someone who had a career batting average of .266, Overbay is an achiever, someone who lived a dream by playing professional baseball. But he doesn't want his kids to carry that burden of achievement. Overbay's achievement can be an incentive or a weight.
"It's hard. I try not to put any pressure on them, and I know that they're going to put pressure on themselves," Overbay said. "At the end of the day, we just want them to be good human beings. I want them to live their dreams."
Overbay's oldest son doesn't play baseball.
"I'm fine with that," he said. "I don't want him to play baseball just because he wants to live up to my expectations and what I think he should do. I just want him to have fun and it wasn't fun for him."
The attitude is "let's do something else."
After his days of stretching a single into a double-ended first at Centralia High School and then at the University of Nevada Reno, Overbay realized his dream when he was drafted by the Diamondbacks. But it wasn't just a dream.
"It's a lot of hard work," said Overbay. "I did have a lot of natural talent, but I've seen guys with a lot of talent. You get to the big leagues and everyone has got talent. What makes the difference was the hard work that you put in every day."
He discovered that the equation for success is talent plus hard work.
"I see that the guys who made it a career, that made it seven to 10 years, I saw what they did on a daily basis," Overbay said. "They worked hard."
And Overbay's dream came true because he did more than just dream about it.