When they're not chasing pop flies or scooping hot grounders, they're on the mound throwing strikes.
Tyson Guerrero and Dakota Hawkins are double trouble for opponents on the baseball field. Now, after playing on W.F. West High School's baseball team that placed second at the 2A state tournament this season, Guerrero and Hawkins are teammates again on their summer Senior American Legion team in Lewis County.
Whether Guerrero is at the plate (he batted about .350 this season for the Bearcats), or on the mound (he had an ERA under 2), or in center field, he gets the job done. That's why he was named the 2A Evergreen League's MVP this spring.
"He's just a really good high school player," said Tom Grunenfelder, coach of this American Legion team. "Left handed bat and left handed outfielder. He's a special player."
At 5-11, Guerrero isn't the biggest guy on the field, but his speed in the outfield and the speed of his fastball on the mound makes him one of the biggest impact players on the field.
"He's got great arm strength, great speed and on the mound he's got a good fastball, a good breaking ball," Grunenfelder said.
Guerrero is no stranger to the game, no late arriver to chasing down fly balls. He played on his first baseball team when he was just 5 years old.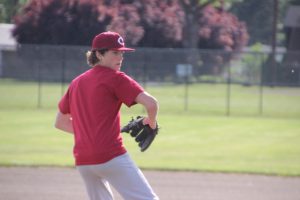 "I've been playing baseball pretty much my whole life," Guerrero said at a recent practice at Borst Park. "It's fun. I enjoy it."
With this team, which is the I-5 Toyota/Mountain Dew Senior American Legion team, the players needed no introductions at their first practice. Six of them played on the WF West team and many of them have been teammates since Little League.
"That really helps team chemistry," Hawkins said. "Just knowing each other. Knowing how they play. Knowing what they do. What they like. And they're just fun to be around."
That friendship is another driving force. No one wants to let down a friend with a bases-loaded strikeout or a muffed grounder.
And like the players, Grunenfelder is no stranger to the area. He grew up in Centralia, then after coaching 26 years at Lewiston High School in Idaho, he's returned home. He brings enthusiasm and insight. A senior American Legion team he coached in Idaho in 2001 placed second at the national tournament.
"He's a really good coach," Guerrero said. "He's going to push us to get our best."
Having grown up in Centralia, Grunenfelder's local connection is an added spark for him. His enthusiasm is contagious. He brings extra energy to the game and to practice.
"He's a really funny guy," Guerrero said. "Makes guys excited to play for him. A fun coach to be around."
Like Guerrero, Hawkins is no stranger to the game. He started playing when he was just four. He's been pitching, facing the pressure of a full count, since he was seven. That experience on the mound has taught him how to handle the pressure of having runners in scoring position with no outs.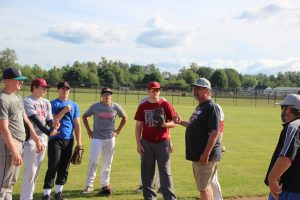 He's learned that the key to pitching is simple. Just throw strikes.
"You just try to get through a batter in three pitches or less," Hawkins said. "Try to limit the pitch count. Try to throw strikes and let your defense do the work."
And when the bases are loaded and the pressure builds up, Hawkins knows that it's key to handle pressure by just focusing on the catcher's glove.
"All you're trying to do is throw strikes," Hawkins said. "If you start thinking about the runners and not the batters, you start walking people. Do your best to stay calm and throw strikes and get outs."
And let the defense do the job.
When Hawkins, an all-league pick who is being recruited by Centralia College and Lower Columbia College, isn't on the mound throwing strikes, he plays either second base or shortstop. And he's not just a good glove. He batted about .350 this spring for the Bearcats. He's a good defender with a bat.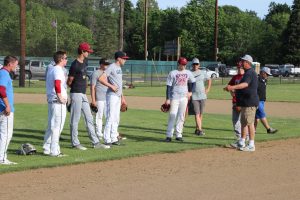 "He's one of our main guys on the mound too," Grunenfelder said. "He's a lot like Tyson. But Tyson is left handed. Those two guys are pretty good one, two guys."
Hawkins is good at turning infield hits into infield outs. And he's someone Grunenfelder can count on with the bases loaded when he's up at bat.
"He's got good baseball savvy," Grunenfelder said. "He always knows what's going on. He's a solid right handed hitter. He's a good player."
Now Grunenfelder, who played on the Senior Legion team in Centralia when he was in high school, is optimistic about the coming season.
"I grew up in this program," he said. "I just want to get it back to where it used to be. I think we have a pretty good club."