The flowerbeds on the approach to Fred and Betty Jurey's Glenoma home scream "artists live here." You won't see the typical beauty bark, the old standby of red rock or even white rock that reigned in years past on the Jurey property. Instead, their yard sports chips of lavender and purple glass. Very appropriate for two creative people.
Fred and Betty are both artists – he a wood sculptor and she an egg decorator. She has been in business as an egg decorator for more than 25 years.
Betty got her start in creating decorative eggs in 1992. "A friend of mine had a craft store and she decided teach it," Betty said, recalling that although her friend repeatedly tried to persuade her to attend the classes, she always thought, "Nah, it's cute, but I don't want to do that."
The friendship won out, though. Soon Betty found herself in the class and she found herself in love with egging. "I took four classes, basically marking and cutting them, putting lighting in them and, of course, decorating them," she recalled.
While the term is "egg decorating," it's more appropriate to say "egg shell decorating." The eggs are first blown to remove the egg white and yoke. The real magic happens with the egg shell.
When Fred and Betty moved from Snohomish to Glenoma many years ago, they brought their love of their respective art forms with them. "I got into egg decorating when I was still working and bought a lot of supplies then," she said, adding with a laugh, "and I've been using them ever since."
"I still have about 90 goose eggs," she said and then immediately added, "and some emu and ostridge, duck, turkey, quail and finch."
Betty explained that the different eggs lend themselves to different finished products. For instance, finch eggs are often made into fragile, dangly earrings and jewelry is often made out of ostrich egg pieces.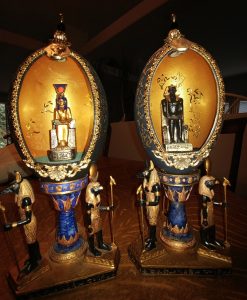 Looking at the many eggs on display in her home, Betty said, "It's always different. There are never two the same, which is like most art. I think my forever favorite one is the first one I did," she said. However, she added that her favorite is always the very last one she did.
Betty has gone through phases, concentrating on one style over another. Right now, she's doing a lot with lighting. To light an egg, she either cuts or pierces the blown-egg shells with a high-speed drill before adding a light.
Betty is always looking for items to use for egg stands, whether it be a napkin ring, candle holder or something specially made by her husband. She said people often ask her how she works with the such minute details on something that is so fragile—and her answer is always the same, "It relaxes me."
Some of Betty's egg creations start with picking up some little figurine in a craft store or garage sale. She spots the item and thinks, "Oh, that would make a great…" Then she follows up with gathering all of the other items needed—and another beautiful egg is born.
"Some finished eggs are given away, some are sold and some just hang out here," Betty said with a wave of her hand toward one of the several display cases in her home.
For now, though, she's still on the hunt for that next creation. As a member of the International Egg Artist Guild, Betty prides herself in putting that special little touch on every egg that comes her way.
For more information or to learn how to buy one of Betty's beautiful eggs, you can reach her at bettyjurey@centurytel.net.