Kim Anderson commutes to Olympia every day from the Chehalis area, so a reliable car that gets reasonable gas mileage is important to her. This was part of the reason she decided it was time to buy a new vehicle. But when she went to a dealer in Olympia, they really weren't interested in helping her get into the truck of her dreams. That's when Awesome Ford in Chehalis proved their namesake.
A self-described "truck person," Kim used to drive Dodge diesel trucks. But when diesel prices skyrocketed to over $5 a gallon, she traded in her truck for car. "I've been through two cars since I gave up my truck, and I just really wanted to get back into a truck," she says.
After seeing the commercials for the Ford F-150, she began to research them. "They have really good ratings and their fuel efficiency is decent for a truck," she says. "So I decided I was going to do it. I was going to buy a Ford F-150."
Since she is on the road a lot, Kim wanted to buy new for reliability and a warranty. "For me, because I am single and everything, I've just always bought new for those reasons – it gives me peace of mind," she says.
When the day came to actually go to a dealership to buy a car, she went to an Olympia dealership first and found them to be unfriendly and unhelpful.
"My credit wasn't exactly stellar," she explains. "That first dealership I went to in Olympia basically brushed me off. They had other people that they could deal with and I wasn't one of them."
So, she continued to drive her car – day after day – passing Awesome Ford's lot on her way to and from work and gazing at the trucks on display. "I always looked over as I was driving by to see what they had in stock," Kim says. "In particular, they had an F-150 up on one of their staging blocks that I drooled over every day. So finally I decided I was just going to go in and see what they could do for me."
This was her first purchase with Awesome Ford and she was upfront with them about her challenges with getting into a new vehicle. Instead of turning her away, they reassured her that they could help get her what she wanted. "And they meant it," she adds. "They wanted to help me and they did. They got me exactly what I wanted and I am happy with the outcome."
At the same time, Kim said she wasn't met with pushy salespeople that were pressuring her into something she didn't want or couldn't afford. They even gave her the option to go with something less expensive.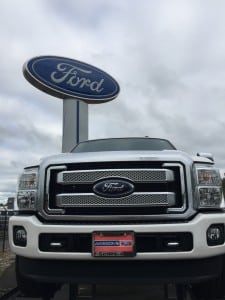 "I have bought a lot of cars and one thing I found really interesting about Awesome Ford was that they didn't apply any pressure, but they were going to go above and beyond to get me in to the vehicle I wanted," Kim says. "The banks kept saying 'oh that's so much money, maybe you could put her in something cheaper.' And they did show me the options and what could be cheaper, but I told them what I wanted and the whole team stuck with me and worked really hard to make sure I drove away in what I wanted, which was awesome."
Gordon Abear was the sales associate who helped make her dreams come true. "Gordon was awesome," Kim says. "He was extremely helpful and very understanding. When he came to tell me I got the truck, he told me to 'Stand up' and then said 'You have a truck' and high-fived me. He was just as excited as I was. It was great."
Company-Wide Care
While at the dealership she witnessed many customers, some with the same challenges as her, all being treated just as wonderfully by the people who were helping them. "You overhear things when you are waiting at a dealership," she says. "You see things. And all the salespeople were just as gentle, considerate and bending over backward for their customers. It wasn't just me."
In addition to the stellar customer service, Kim says Awesome Ford cost a little bit less than the dealership in Olympia, plus they had a lot of rebate options that really helped her. "I was upside down in my trade-in and they let me use my rebates to off-set the amount," she explains. "That was really helpful." If that wasn't enough, her new truck has a 125,000-mile/6-year warranty.
After the sale, Gordon came out and showed Kim how her new Ford F-150 worked. "He showed me all the buttons and even helped me get my phone hooked up," she says. "He wasn't going to let me leave without having my phone all set-up." Usually these are things new car owners figure out on their own, after spending hours reading the manual. Awesome Ford makes sure people drive off the lot knowing how to work their new vehicle. It's just one more thing they do to help their customers.
"That's how they earned their name, Awesome Ford," she adds. "Seriously! At first I thought it was kind of dorky, but now I know why they are called that. They really are awesome. I keep using that word now. It's like my favorite word."
For more information about Awesome Ford, visit their website or call 360-748-3355.
Sponsored