Napavine High School girls' basketball coach Jeremy Landram showed exactly what he could do with a senior-led squad last year, guiding the Tigers all the way to the 2B state championship game.
The roster may be completely void of seniors this season, but two juniors – Mollie Olson and Melissa Lee – have Landram believing his team may not miss a beat despite a roster filled with several new faces.
"You can't have Mollie without Melissa and you can't have Melissa without Mollie," Landram said. "They work so well together. I've never been a part of two superstars where there wasn't a little bit of jealously, but these girls actually get mad at each other if the other one doesn't do better than they do."
Olson and Lee are both multi-dimensional 5-foot-10 guards and helped Napavine come within a victory of securing the program's first state title in 2016. The Tigers, who won 24 games last year, lost to Okanogan in the 2016 title game, 60-51.
That experience will definitely ease the transition as Landram breaks six freshmen into the world of varsity basketball.
"Personally, I was excited to have so many freshmen. It's a definite challenge as to where you want to go and what you have to do to get there," Landram said, "but the thing is there's no real expectations. [The new players] have no bad habits because they've never played before. With the exception of freshmen Riley (Beeson) and Halee (Williams) none of them have ever played basketball before this year. They just decided to turn out."
Olson, who is also Landram's niece, and Lee are coming off sophomore campaigns where they both were named to the first-team all-Central 2B team.
As expected, the Tigers' growing pains were present early on and were compounded by the fact that Olson missed the first month of the season after being sidelined with Cuboid syndrome, a nagging injury that affects the joint and ligaments of the cuboid bone in the foot.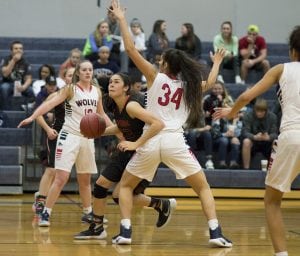 "It had been hurting her for a while," said Landram, last year's Central 2B coach of the year. "The only real treatment for it was for her to stay off it totally for a while or it wasn't going to get any better. She was in a boot for a while. She probably could have come back earlier, but Uncle Jeremy decided sitting her out was the right thing to do until she got a second MRI."
While many teams would have a negative view toward not having their best player on the court for an significant amount of time, Landram went another direction – using it as an opportunity to for his newcomers to receive precious playing time.
"The last two weeks, our scores haven't been too good, but everyone has played," Landram said. "All these new kids have gained a ton of valuable experience. Breaking in new kids, you're going to have that adjustment period. That's what we've been going through. And they've done a great job. For the situation we are in, this is exactly the perfect set of girls to go through it with. We will be much better off by the end of the year."
As per usual, Landram loaded his non-league schedule with several challenges as the Tigers have played 4A Battle Ground, 3A Wilson, 2A Black Hills and 1A Kings to tune-up for the always competitive Central 2B League.
Napavine, which has advanced to the state tournament a remarkable 14 consecutive years, was defeated in all four contests, but Landram places more importance on other aspects of the game than victories at this stage of the season.
"I always tell the girls my philosophy has always been that it's my job to make them 0-4 (in non-league games)," Landram said. "We will get so much more in the long run by playing these types of teams. I believe our league is as good as anyone around. You have Kalama, Adna, Wahkiakum, it's a very good league, and you need to be improving every time out. I think that is something we have done."
Olson made her seasonal debut against Black Hills, currently the No. 2 ranked team in the 2A classification, and scored a game-high 25 points, while Lee chipped in 21 points in a contest that the Tigers kept pace with the bigger Wolves through the first half.
"It's just a luxury to have girls like Mollie and Melissa," Landram said. "They're both outstanding individuals and so much fun to coach. The experience they both bring is huge and having those two thoroughbreds I know we can go anywhere and play with anyone. It's definitely going to be a process for us this season, but if I had to pick a group of girls to do it with it would be these 11 girls."