When asked why he left Friesland in 1965 at the age of 23, Leo Zylstra says, "I wanted to work for myself." He was born in the small village of Kubaard in Friesland, a province of the Netherlands. It is the only province with its own language. At that time, most people there worked for other farmers, including his own father. Leo was determined not to have a boss and so he moved to Lynden, Washington, where he had family.
"Back then, America was the land of opportunity," Leo says. "And I think still is. That's why I came. I had my own dairy within a year and a half."
In 1979, Leo moved to Onalaska and bought a 150 acre dairy. Today, the dairy has grown to 700 acres off Highway 12. He has about a thousand Holstein cows, which are sometimes referred to as "the black and white cows from Friesland."
Growing up in Friesland
Although he came here and made good on this promise, Leo still has family in Friesland and visits at least once a year. To get there, he flies into Amsterdam and then takes a train to his village, which is about 80 miles away. He says the trains are very efficient and run every hour, not like American public transportation.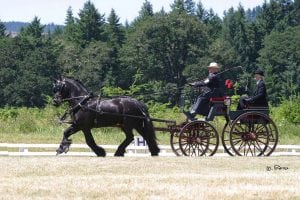 "When I was growing up, we used bikes," Leo says. "From our little town to the main shopping was five miles. So you took your bike or bus. When I was a little older it was a motor bike." His family was not poor, he says, but there was "never anything extra."
Unlike Washington, Holland is "flat as a pancake" so the first time he saw Mt. Baker covered in snow, he says "I could not take my eyes off it. I'd never seen a mountain."
Back then, before he moved to America, driving the Friesian horse was very popular with those who had money in Friesland. After all, a horse or two, a cart and the harness is expensive. Growing up, Leo has worked with other people's horses, but had his family had never had the money to own one.
Today, the Friesian is still much more common in Holland than here in the United States. A good analogy is to think about how common the Quarter Horse is here. While we import Friesians, they import Quarter Horses.
Interestingly, the elegant Friesian we know today is not the way the Friesian originally looked, Leo told me. He said they were bred for work as well as carriage use and so they had shorter legs and a stockier build. As driving dwindled in popularity in Friesland, the breed became a riding mount and so breeding changed to favor the longer legged, slimmer horses that more of a sporthorse-type.
Zylstra's Friesians
Leo got married to an American, Pamela, in 1982 and took her home to Holland to meet his family. While there, she saw the Friesian horses and fell in love. "She said, 'We should have one like that too,'" Leo recalls, "and that's kind of the way it started." They went back a few more times and each time, they looked at the Friesians.
In 1990, Leo and Pam were more established and were able to finally buy their own Friesian. Back then, finding a Friesian in America wasn't easy and so they went to California to get their first mares, Ottolien and Metske. After that, they imported another mare Germa fan "Hensoude." Germa was purchased when she was just four weeks old, but they waited until she had been evaluated in Holland before bringing her over.
The Friesian registry has very strict guidelines for their horses and this includes being evaluated as a yearling and then again at around the age of three. At that time, they are allowed into the registry. The Friesians are categorized by their quality into predicate levels – Star, Crown and Model. Leo and Pam owned one Model mare in their lifetime, Wanda. A mare has to be stellar to reach this level and must be at least seven years old. They have to prove they can reproduce and be excellent in performance as well as conformation. Each year, there are probably only 10 to 12 Models awarded.
Friesian owners in the United States do not need to ship their horses to Europe for evaluations. Once a year, they fly the judges over from Holland and hold an evaluation here.
Even stricter, however, are the stallion evaluations. Leo said that to get a registered stallion is a challenge. They have been looking for 25 years for one of their own to bring home.
"Next month I'll go back to Holland and they'll have that evaluation of all the young, two- to three-year-old stallions," he explains. "They start with 400 of them and they will finally come out with six or seven that pass."
At their peak, Leo and Pam owned thirty Friesians and travelled the country showing their horses in driving. One of the ways they kept Leo's native traditions was to show their Friesians in native Friesian dress in a native Friesian cart called a Sjees (after the French word "chaise" for chair). These stunning carts are very ornate and every single one is one-of-a-kind. They have their own registry and 26 measurements must be taken and recorded before the cart can receive a number and be registered. Leo has one that is in the Sjee registry. The traditional dress is from around the 18th Century.
"I am wearing a white lace cap followed by a black cap, a heavy gold circlet and another piece of lace over that," Pam explains about the costume seen in the picture of her and Leo. "It takes a lot of time to get into one of those dresses," she adds. The gold circlet is called the Oorijzer or "ear iron" and wealthier woman would wear gold. Poorer would wear silver.
Leo still remembers women going to church on Sunday wearing these dresses, though he said most took cars at that point and not horses.
While the dairy was their business, Friesians were their hobby, "for a while, a hobby out of control perhaps," Leo adds. But most of all, best of all, Leo was his own boss. Now, they are semi-retired and are down to just nine Friesians. They still do parades and public appearances from time to time as well.
You can see more beautiful images of their Friesians on the Zylstra's Friesians website as well as the horses they currently have for sale. And maybe, just maybe, this year will be the year that Leo and Pam find their stallion.