We live in one of the most gorgeous counties in the state. The numerous lakes, the rivers that change with glacial runoff, our mountains – all of the natural beauty gives us not only excellent opportunities for outdoor recreation, but these scenic backdrops make for great family photographs as well.
Alison Clinton owner of Horizon Photo has several recommendations of where you can go to take that keepsake photo. "Stan Hedwall Park is especially popular in the fall," she says. "Lintott/Alexander Park is very quiet. There are not a lot of people there. Those are my two favorite parks."
She adds, "The Borst Home area is another great place for photos. And then there is downtown Centralia or Chehalis with so many old buildings. You can always find something funky for a great background."
Mainly, she says, it depends on the time of year. "Everything is different at different times of the year. It depends on the leaves and their colors which places may work best for your photo."
Natural outdoor settings are in great abundance in the county. Any place where you can have Mt. Rainier as the backdrop is especially beautiful. Mineral Lake can put the majestic mountain right behind your pictures. It can change up completely, depending on the day, the time, or the weather. An entire series of photos could be taken, comparing and contrasting the changes.
White Pass has snow for fun winter family activities. Whether it is action pictures of your family enjoying snowboarding, skiing, or snowshoeing, or simply enjoying the scenery, you can't go wrong here.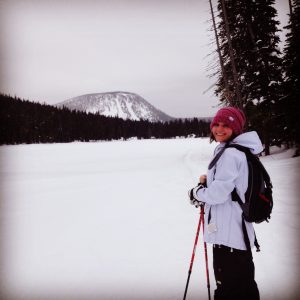 Don't forget the spots along our many rivers. Many pull-offs or boat ramps can serve as staging areas. County and state parks offer settings of large trees or expansive lakes to add to your photo. Who doesn't want to stop and jump out and take those memorable pictures on a cold, clear fall or winter day in front of some of the best lakes. Mayfield Lake, Riffe Lake, even little Carlisle Lake in Onalaska are all surrounded by the changing leaves of the seasons. Lewis and Clark State Park with its old-growth trees and Ike Kinswa State Park are easy and available for use.
Amateur photographer Megan Zigler has several spots that she likes to go. Natural backgrounds in the Gifford Pinchot are some of her favorites. "Taking a short hike into the woods can bring you to some simple but beautiful little waterfalls. You can find some very romantic settings for things like marriage proposals," she smiles.
Zigler also says that there are many spots along the beautiful Willapa Hills Trail that make for a wide variety of backgrounds. Fields, farms, the river, wildlife, and native plants are all right for a variety of photos. "The trestle looks great any time of year for a background," she advises. Just take a peek at the Facebook page and you'll see that many people enjoy the picturesque trail.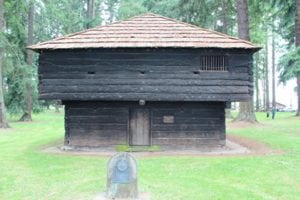 Many backroads will suddenly spring an awe-inspiring view of Mount Saint Helens. If you can safely stop and get out to take pictures, do it. A background of the mountain, pink with daybreak or sunset, would make an impressive conversation piece hanging in your living room.
But Lewis County isn't just full of natural beauty. If you're a history buff, the impressive variety of historical backdrops can create that creative multi-generational photo as well. As Clinton suggests, places like the Saint Helens Hotel in Chehalis or the Lewis and Clark Hotel in Centralia are quirky yet historical.
The historical murals around Centralia could help tell the story of your family's move to the area. Who doesn't love trains? The historic railroad stations in Centralia, Chehalis, and Morton could be the setting for sepia-toned photos. How about re-creating old class pictures in black and white using Evaline School or Boistfort School? Add in the old churches such as Claquato Church. Don't neglect the many historical buildings like the Scout Lodge in Chehalis, or the Civilian Conservations Corps buildings. There are several in the Gifford Pinchot National Forest.
If you like a classy water fountain backdrop, try the Vernetta Smith Library in Chehalis, or the one at Liberty Place near the Holiday Inn Express, also in Chehalis. Fountains are always pretty backgrounds when flowing but also make sure to check them out when they freeze in the winter. The effect of the frozen waters can be quite artistic and interesting.
All around Lewis County you will find something that will make a dramatic, colorful, or quirky backdrop for that perfect family photo. Amateurs and professional photographers alike will have no problems finding a wide variety of opportunities for unique and engaging photos. All you have to do is keep your creative eye open.