People are living and working longer than ever before. Fifty has become the new forty. Good skincare is for all ages. Last year, Americans over the age of 50 opted for more than 3 million minimally invasive cosmetic procedures. We all want to look as young as we feel and Laser Artistry wants to help.
According to the National Laser Institute, the top three minimally invasive cosmetic procedures are chemical peels, soft tissue fillers and Botox injection. All three of these procedures and more are available at Laser Artistry & Medical Spa. Laser Artistry features all of the most popular treatments in their clinic.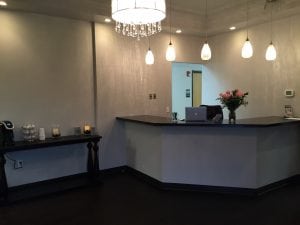 Fillers like Juvederm and chemical peels were traditionally something we only read about in celebrity magazines. You may think that these types of procedures are out of your price range, but with monthly specials and packages you might be surprised that they are well within your budget. An age spot or a line that bothers you can be removed, improving self-esteem. This renewed confidence can translate to other areas of your life.
The podiatrists at Foot and Ankle Surgical Associates began using a laser to treat toenail fungus. When patients had great success in healing their toes, they wanted to treat other areas with the laser. A new business was born and has grown each year by expanding their growing menu of treatments. Laser Artistry has three state-of-the-art treatment rooms and employs six full-time staff.
"I have been receiving laser therapy at Laser Artistry and the experience has been absolutely wonderful," says one client. She adds that, "The staff is professional with upbeat attitudes and goes out of their way to assist you with any issues you may have."
All skincare at Laser Artistry is customized to each client based on a free skin consultation. Multiple issues such as fine lines and pigmentation can be addressed. Three estheticians are available for everything from eyelash extensions to relaxing facials. Laser Artistry employs a registered nurse in addition to an ARNP ensuring that a professional oversees all cosmetic procedures.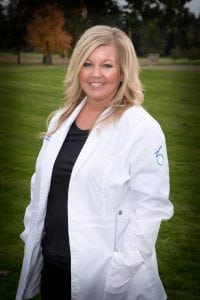 Master Esthetician Melissa Richardson was trained locally at the Fosbre Academy in downtown Olympia. Melissa has developed a cult following of people desiring her expertise in eyelash extensions. Born in Chehalis, Richardson went to Napavine High School. She was actually born in a bathtub in the Napavine home she lived in for 23 years. She recently moved to a new house just one mile from her longtime family home.
"I love the environment at Laser Artistry," says Richardson. "It is so rewarding to make people feel good about themselves and the health of their skin."
Clients at Laser Artistry are as enthusiastic as the staff. "I had my first laser treatment Friday and I can already tell a huge difference," says one client. "I can't wait for my next appointment!"
Giving back to the community is central to the mission of encouraging healthy skin at Laser Artistry. The staff participates in health fairs and provides information on skincare at their booth. Recently they worked at an event that pampered the spouses of those serving and deployed in our military.
This month, Laser Artistry "Gives Thanks for Beautiful Skin" with specials promoting skin health. Buy a $100 gift card and get a $20 gift card for yourself. Save $50 on the purchase of three chemical peels. For the month of November, receive $30 off any facial including the 30-minute express facial that can be done over a lunch break. Return to work or school with glowing skin.
Laser Artistry & Medical Spa provides an alternative to the stress of shopping during the year's biggest rush. Instead, celebrate Black Friday with a facial or a peel. Spa Manager Shelby Carter promises that the surprise Black Friday specials revealed later this month and are "really, really good!" Start your holiday season with a little something for yourself.
For more information or to schedule an appointment visit their website or call 360-753-4221
Laser Artistry & Medical Spa by FASA
1610 Bishop Road, Bldg #7
Tumwater, WA 98512
Sponsored