We spent Thanksgiving being thankful for all that we have. We know we are fortunate. We also know there are many others who are not as fortunate and could use some help. We all have within us the power to make a difference in someone else's life, to help ease their circumstances.
We can all take the opportunity to give back to the community. Sometimes it can be difficult with busy schedules to fit in regular volunteer work, but during the holiday season, there are many ways to contribute once or twice or several times. Take a look at some of these ideas and see if there are any that you and your family can participate in.
Places to Volunteer in Lewis County
Food Banks
Greater Chehalis Food Bank, Lewis County Food Bank Coalition, along with food banks in Pe Ell, Silver Creek, Toledo, White Pass, and Winlock, are all in need. Visits to food banks can be higher this time of year as families are struggling with providing even a few Christmas presents for their children, while also trying to feed them. Your gift of extra groceries, or helping to stuff food boxes would be greatly appreciated.
Toy Drives
Many businesses in the area have giving trees or toy boxes where you can leave new toys. Some stores allow service organizations to set up outside accepting donations of money and toys. A few that have been reportedly spotted around the area recently are:
Providing help with housing, this program is always in need of items such as laundry soap, dish soap, gas cards, toilet paper, hygiene products, and other items of daily living.
Training is provided on helping in the shelter, especially as the weather gets colder. Other outreach includes weekly meals and a food pantry. Donating your time to help serve meals or food for the pantry is greatly appreciated. They also accept hats, gloves, other clothing, food, and personal care items. In addition, they are collecting bicycle helmets through December 18.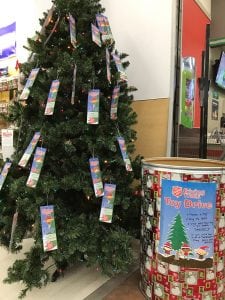 Donations of money or personal care items can help women and children escape domestic violence, which can sometimes increase with the stress this time of year.
Let's not forget our four-legged friends. Sometimes pets wind up at the shelter as they are given up by struggling families, or they may get lost because of harsh weather. You can help by contributing food and supplies to help care for the animals.
Donations of food, personal care items, clothing, or bus tickets are all ways that you can help in this program.
If you get new furniture for Christmas, you might think of donating your gently used furniture to Love INC.
A community outreach program serving the Centralia community. Open Arms is holding a Christmas Toy Drive for local kids. In addition, they are also holding a children's book drive, as well as hats, gloves and scarves to keep everyone warm this time of year. Then on December 24 they will be providing a free Christmas Eve dinner at the Centralia Train Depot, starting at 4:00 p.m. They could use help with food donations and well as cooks and other volunteers to help serve. A big treat for all attending is that Big T BBQ will be preparing the meat!
Possibilities Pregnancy Center
Donations of money, diapers, diaper bags, and other items can help new families through this time of year.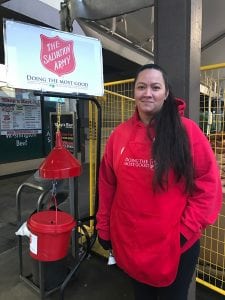 The Salvation Army always has their Bell Ringers out this time of year. The people are always smiling, no matter what the weather. They appreciate a simple, friendly acknowledgement of, "Hello, have a good day." But of course, if you can pop even a single dollar bill in that red bucket, it will be put to good use by the organization. Outreach includes a food bank, housing assistance, and energy assistance, among others.
As you look around the community, you can find many ways that you can help others. Big or small, your gift of giving of your time or money will make a difference in the lives of your Lewis County friends and neighbors this holiday season.