The holidays are a joyful time. We gather with friends, exchange gifts and stuff ourselves with food. However, for many families, the holidays can be a difficult time of year. When the budget is already stretched thin, families can't always find a little extra to create a magical Christmas for their kids.
For years, Les Schwab Tire Centers throughout Western Washington have recognized the hardship Christmastime can place on families. As a result, they have partnered with The Forgotten Children's Fund (FCF) to bring Christmas to families in need, including food, basic needs and, of course, presents.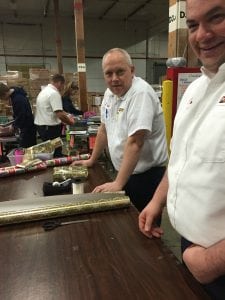 Several years ago, Mark Witham, the Centralia Les Schwab store manager, volunteered his time at the Seattle-based Forgotten Children's Fund wrapping center with a group of Les Schwab managers. Mark came away from the experience changed, looking at how our local community could use some help.
Inside the massive warehouse, he saw hundreds of new bikes, thousands of new coats and mountains of toys just waiting to be wrapped, tied with a bow and delivered to children for Christmas. It was upon his return that he knew the Lewis County team needed to get involved. And in a big way.
The next year, Mark invited his wife Kim to join him. "He knew I had a really soft heart for the holidays and for families in need," shares Kim. "We always adopt a family at Christmas and donate in the community." As soon as she understood the mission of FCF, she knew she wanted to spearhead a Lewis County Forgotten Children's Fund project in her hometown.
"Mark thought I was crazy," Kim laughs. But those who know Kim also know that when she puts her mind to something, she'll likely get it done. The following year, Kim connected five Lewis County families with the organization, helping create a magical Christmas provided by the FCF program.
The Forgotten Children's Fund has been around since 1976. It started with a boy named Craig who wrote a letter to Santa saying his mom told him Santa got lost the previous year and to please not get lost again, that he had been very good and his little sister really missed Santa. The letter captured the heart of Mr. Dick Francisco and the FCF was born. Now, the group helps children throughout Washington have a truly Merry Christmas.
Applications from needy families are accepted through December 5th in Lewis County. Families are screened based on need, situation and if they are receiving any other kind of aid. "We serve families that are working hard to make a life for their kids," shares Kim. "These families just need a hand up to help them through the holidays." Sometimes, families have had medical expenses, job losses or other challenges that make the budget extra tight. Kim and her band of "elves" come to the rescue, helping parents preserve the magic of Christmas.
These are not figurative elves either. The crew of tireless volunteers work throughout November and December screening families, soliciting support of businesses, gathering donations and eventually delivering the wrapped gifts in person—and in costume—on December 23 and 24. "Santa and his elves arrive at each home literally bringing Christmas to the family," she says. "And, when Santa walked through the door with a sack of presents bursting on his back, the kid's eyes get about as big as saucers." It is that moment when everyone believes in the magic and forgets how complicated life may be, it brings about a togetherness for everyone.
Each child in the family receives a stocking, three toys, two books, a warm coat, a blanket, and sometimes even a new bike and helmet. The parents receive gifts, too, but they mostly take the form of groceries, the makings for a Christmas dinner and sometimes assistance with just keeping the power on.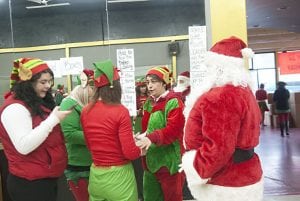 Les Schwab Tire Centers have been a big part of the support system that collects the mountains of toys, clothes and blankets along with financial donations. Last year, Kim became the liaison for all of Lewis County.
"My goal was to serve 100 families last year," Kim shares. "Mark said it was impossible, but we actually served 127, because of the wonderful amount of local help we had."
To serve that many needy families, stretching from Pe Ell to Packwood, takes a lot of support. Community members can bring donations of new, unwrapped toys, books, blankets, coats, bikes and non-perishable food to both the Chehalis and Centralia Les Schwab Tire Centers. Monetary donations can also be made through Forgotten Children's Fund's website. Beyond donating, volunteers are always needed both at home in Lewis County and at the wrapping facility.
"Volunteering at the wrapping center is one of the best parts," shares Kim whose own children join her at the center, wrapping and sorting gifts. Typically, a business will donate the use of a warehouse space where toys and food are brought, sorted, wrapped, labeled and bagged for each family. "It's not generic," Kim emphasizes. "When you volunteer, you get a family. You see their names, ages and what's on their Christmas list. Then, you get to go 'shop' from the thousands of items collected for just the right thing and wrap it up and put that child's name on the package." The task is massive, yet the personal attention never fails to touch each volunteer's heart.
Locally donated items are hauled north to the wrapping center by Les Schwab then back home to Lewis County by J.J. Sauter Trucking, which donates the semi-trucks and drivers to bring all the completed family gifts back down. After participating last year, the drivers are hooked and can't wait to do it again. "It's really moving," says Kim of seeing the immense amount of generosity, all in one place.
Interested in volunteering? Email lcheadelf@gmail.com for local help or simply visit the FCF website, register as a volunteer and click a shift on the online calendar. Families, school and church groups, and individuals welcome.
To help bring a truly Merry Christmas to the families in your community, simply drop donations by either Centralia or Chehalis Les Schwab Tire Center. Put an extra book, toy or coat in your cart when you are out shopping in the coming week. Kim and Mark have seen firsthand what that little extra from each of us can do for those in need right in our neighborhoods.
"We create a real, magical Christmas for these kids," says Kim, "and there is really no better feeling in the world than that."
Les Schwab Tire Centers
Centralia – 1211 Harrison Ave
Chehalis –  36 N Market Blvd
For more information visit The Forgotten Children's Fund website.
Sponsored