ABC Locksmith has been helping people in need of key services for nearly 40 years and is still a family-owned business with a heart for its community. Tom Davis, now retired, formerly ran his shop on Gold Street in Centralia. He is well known around the community and can still be seen at the shop from time to time, which is now run by his stepdaughter Shawna Estrada and her husband Gustavo Estrada. They took over the business January 2016 and moved it to its new location 401 South Street, Centralia. Shawna and Gustavo are continuing in Tom's tradition of great service and giving back to the community they love. In fact, the ability to give back in so many ways is the reason they decided to continue her stepdad's business.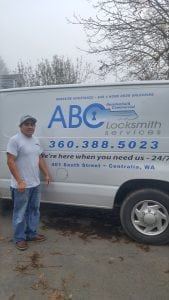 "We wanted to do it because it's a good service business," says Shawna. "In the last 11 months, I have managed to incorporate this business into almost every nonprofit Lewis County has."
This involvement includes donations and gifts in-kind for as many groups as possible. Both she and her husband work hard doing what they do in order to give back to the community. One of Shawna's favorites is the Centralia Little League. She has been on the board for two years and ABC Locksmith sponsors a t-ball team called The Lockers. This year, they will also be sponsoring a minors team, though they have not settled on a name yet.
ABC Locksmith helped market and collect for the Centralia School Supply Drive and donated rekeying services to the United Methodist Church in Rochester after multiple break-ins – to name just a few of the ways they have helped this year. And it's not always organizations. Sometimes, they do good deeds for individuals in need as well.
"We had a girl who came in the other day and asked if she could get a key for her car," Shawna says. "She had just separated from a domestic violence relationship and we did it and didn't charge her. We've rekeyed a house for a woman in a similar situation. We can't do it all the time, but if the need arises we will always try to help where we can."
When it comes to services, ABC Locksmith is a full-service locksmith providing a range of products and services for commercial, residential and auto. They also do safes and vaults, including opening, lock replacement and re-combination services. Aside from on-site work, they are one of only two locksmiths in the area that has an actual store, where customers can buy supplies including high-security locks from some the most trusted brands in the industry – Schlage and Medeco. They can also do special orders if they do not have something you need in stock. While the store is open Monday thru Saturday from 8:00 a.m. to 5:00 p.m., they also have 24/7 emergency mobile services so you can get help when you need it.
When it comes to creating duplicate keys or replacing lost keys, ABC Locksmith is able to handle almost anything, from transponder keys to high-tech automotive FOBs, up to and including 2016 models. In fact, the biggest mistake people make, Shawna says, is to assume they need to go to the dealer if they lose, break or want a duplicate car key.
"I just did a key for a Touareg and it was a $200 key with programming and the dealer was going to charge $700," she says. "It's always better to go to the locksmith than the dealer."
Always trying to save their customers money, Shawna says another thing people should be aware of when it comes to locks is that they have the option of rekeying their home or business, instead of replacing all the hardware, which is very expensive. For example, one Schalge lock is almost $60. It's only $20 to rekey. ABC Locksmith always offers the cheaper option first, to help their customers out. In addition, their service fee for mobile services is two and half times less expensive than other local locksmiths.
ABC Locksmith service all of Lewis, Thurston, and Grays Harbor counties. For more information, visit ABC Locksmith's website or call 360-388-5023.
Sponsored