In this day and age, Internet and social media culture has allowed people to set up shop anywhere, and act as CEO, marketing director, creative director, and accountant for their makeshift business, all while actively pursuing their passion outside of an office building. Such is the case with Rebecca Eitemiller of Rozy Cozy Crochet, who has become an artistic entrepreneur from her home in Onalaska.

In 2014, with the aid of a hook, some yarn stowed away in a craft trunk, and several YouTube instructional videos, Rebecca found in crocheting a creative outlet that kept her focused and relaxed.
"For me, it's therapeutic. Crocheting is a quiet activity, and you can work with your hands, and you're alone with your thoughts. I kept at it, and got better at it." After several sessions creating winter hats and scarves for her daughter Rosie (who Rozy Cozy Crochet is named after), she realized that her quick turnaround time, hunger for crochet patterns and techniques, and creative visions could be taken to the next level.
In March of 2016, Rebecca created her virtual storefront via Etsy, and made her presence known on Facebook and Instagram. These online galleries promote Rebecca's numerous crocheted creations, from rainbow-colored children's ponchos to beanies to coffee cup sleeves. Despite fears that her technology and business skills were limited, she immediately moved forward.
"I just jumped into it, and I'm learning as I go. I watched a lot of tutorials and read a lot of articles through the Internet, and figured out how to make your items come up in searches, how people will see my photo images via specific wording and tags. If someone wanted to look up 'crochet' and 'Onalaska" in Google, my business would come up."
As orders started to come in, Rebecca was able to get into the work groove, determining ideal turnaround times and production schedules. Stocking caps take a couple of hours, and blankets take roughly a week, depending on the complexity of the pattern and amount of yarn required. Finding inspiration and designs for her work is easy as well.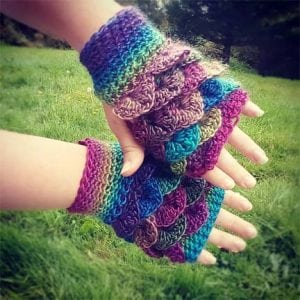 "I'm a visual person, so if I can put it on paper, I can see it better. Other times, I take from other ideas and put them together to make something of my own." The same online community where Rebecca learned her craft also allows like-minded artists to share and sample patterns and clothing ideas. "If sites like Pinterest publish the pattern, then it's free game, as long as you give credit where credit is due."
Keeping close tabs on fellow crochet artists and their work via social media and specialty sites allows Rebecca to notice trends and popular styles. She brings out a pair of blue fingerless gloves in a "dragon scale" pattern. "This glove pattern went viral a couple of weeks ago on Facebook and everyone sent me photos encouraging me to make them."
As one could imagine, Rebecca's Seahawks-themed stocking caps, initially created via a Facebook inquiry, are currently one of her most popular items.
Asked if there was a challenging project that engulfed her in its magnitude and detail, Rebecca pulls out her mobile device to display a photo. "I made this blanket a while ago when I was first starting out that took me so much longer than I thought it was going to. I had to remake it three times. It was a huge blanket with a peacock feather pattern. It literally took me a month to make. You have to make all these peacock feather images, and then you have to make the blanket, and then you have to pin and sew each feather onto the blanket in the exact spot – there's over a hundred of them. It was definitely challenging, and it turned out alright, but I wouldn't do it again. At least I would charge more to do it again."
This year, Rozy Cozy Crochet was at an art festival in Mineral, and the October Harvest Festival and Crafted with Love Craft Bazaar, both held in Chehalis. Rebecca loved meeting fellow local artists and vendors, and found that people were quick to help out during any unforeseen incidents. "When I was at the Harvest Festival, on Best Family Farms, it was really windy that weekend, and I didn't think to bring stakes or weights for my tent. A lady gave me one her weights to help me out." The Lewis County community can also check out Rozy Cozy Crochet's products year-round at Buzz & Blooms, a flower/gift/coffee shop in Onalaska.
As Rebecca continues to crochet and build her business, she's always thinking of ways to expand, whether it's an interactive video channel where people can engage in group crocheting sessions, or a communal art space where people can rent studios and teach classes. "I don't see myself necessarily crocheting to make a lot of money for the rest of my life – it doesn't really work that way – but it is a fun, hands-on experience for me to start a business. There's no risk."
Rozy Cozy Crochet will be at Santa's List Bazaar and Gift Show on November 26th and 27th at the Southwest Washington Fairgrounds in Chehalis. To contact Rebecca and view samples of her work, check out her Etsy page.