With the addition of Kathryne Lucas, M.D., Centralia now has three board-certified general surgeons.
This award-winning surgery department performs state-of-the-art procedures and uses minimally invasive techniques whenever possible.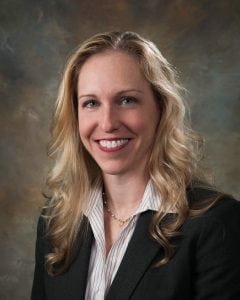 "We are proud to have such a quality and dedicated team of surgeons in Lewis County," said Providence Southwest Washington Region Chief Executive Medrice Coluccio. "This team, like Providence Centralia Hospital itself, is just a gem for the community."
Dr. Lucas joins Dr. Atul Thakker, M.D., and Dr. Emery Chang, M.D., at Providence Medical Group – Centralia General Surgery. The group has recently moved back into their remodeled home at 1720 Cooks Hill Road.
"Providence General Surgery has provided high-quality care to the patients of Lewis County for decades and we're pleased to be able to strengthen and expand our services with the addition of Dr. Kathryne Lucas," said Dr. Rik Emaus, chief executive of Providence Medical Group for Southwest Washington. "Her addition to an already strong general surgery team is an important contribution to Lewis County."
Veteran, reservist now serves in Lewis County
Dr. Lucas served in the U.S. Air Force for 12 years as a general and breast surgeon, serving in Anchorage and Las Vegas. She was deployed to Manas Air Base in Kyrgyzstan as the chief general surgeon. She is currently a Lt. Col reservist in the Air Force.
Specializing in in breast surgery for benign and malignant breast disease (in addition to general surgeries such as hernia repair, gallbladder removal and bowel surgery), Dr. Lucas treats women and men with breast diseases, benign breast masses and breast cancers. She performs lumpectomies, mastectomies, duct excisions, excisional biopsies, sentinel lymph node biopsies and axillary lymph node dissections.
"I'm thrilled to be able to bring my skills as a breast surgeon to such a wonderful community," said Dr. Lucas. "I love the feel of Lewis County and it will be a great fit for me."
Dr. Lucas earned her medical degree from the Uniformed Services University of the Health Sciences in Bethesda, Maryland. She completed her surgical residency training at the University of Texas Health Science Center at San Antonio & San Antonio Uniformed Services Health Education Consortium. Dr. Lucas also earned a Master of Arts with an emphasis in International Relations from the University of Oklahoma.
Earlier this year, Dr. Lucas volunteered with Medical Education International in Mongolia where she worked as a breast surgeon. She enjoys hiking, running, skiing, cycling, traveling and participating in triathlons.
Quality care, close to home
Providence Centralia Hospital and the Surgery Department has long been known as an award-winning facility.
Earlier this year, Providence Centralia was one of 11 hospitals in Washington to win a Washington State Hospital Achieving Best Care Award for achievements in patient safety and quality

Dr. Thakker joined the Lewis County medical community in 1997. He has performed about 50,000 procedures in his nearly 20-year career in Centralia. Photo courtesy: Providence Medical Group.

In 2015, Providence Centralia was named a Top Performer by the Joint Commission for the third time in four years in four key quality measures, one specifically for patients who undergo surgery.

In 2013, the Providence Centralia Surgery Department was one of just seven hospitals in Washington to receive the top score in a Consumer Reports analysis rating U.S. hospitals on surgical care.
"These awards reflect teams working together to improve patient care," said Jill Cooper, Vice President of Quality for the Providence Southwest Washington Region, which includes Providence Centralia and St. Peter hospitals, and the Providence Medical Group in Southwest Washington. "We've committed to the implementation of evidence-based practices – those practices we know make a difference in the care of our patients."
Dr. Thakker joined the Lewis County medical community in 1997. He has performed about 50,000 procedures in his nearly 20-year career in Centralia. He is a member of the Washington State and Lewis County medical societies.
Dr. Chang came to Centralia in 2012. He is a member of the American College of Surgeons, American and Washington State medical associations. In addition to a wide range of open general surgeries, he performs laparoscopic procedures such as colon resection, gallbladder and hernia surgeries.  He has a strong interest in preventative medicine.
"My motto is 'we can fix it after it breaks, but it's better to prevent it,'" he said.
For more information about PMG – Centralia General Surgery, call 360-827-8100.