Lewis County has its share of interesting groups that benefit the community without a lot of buzz. One such group is the Lewis County Beekeepers' Association, which offers vital information about honey bees and the important work they do behind the scenes of everyday life. The LCBA has done much for the Lewis County community, but now has extended a youth scholarship program to introduce beekeeping to the younger generation, and get them interested in a something that makes an impact on Lewis County.

The LCBA Youth Scholarship program is open to students between fifth and tenth grade, and seeks to teach interested kids how to manage their own bee hive. If the applicant wins the contest, they receive three pounds of honey bees and a queen, a bee suit, equipment necessary for them to start their own hive, and a mentor from the association. In exchange for the scholarship, the child or teen must agree to take classes and workshops, as well as participate in group activities, such as volunteering at fairs to represent LCBA and educate the public.
Two scholarships are given every year and one of the two scholarships given this year went to a very intelligent eleven-year-old named Samuel Mittge. Though he's only been a part of the association for a couple months now, he's highly knowledgeable. Sam informed me of the dangers bees face that cause such a great loss to hives everywhere.
"Sometimes wasps attack the hive, or one beekeeper gets a diseased hive that spreads to nearby hives. Some are serious, others you can treat. But if you can't treat a disease, you have to burn the hive and start over, like the American foulbrood, which can spread, but it's very rare and isn't present here," he says. A more common problem here, Sam tells me, are Varroa mites. Unlike the American foulbrood bacteria, Varroa mites are little, destructive parasitic mites that burrow into bee larvae and suck the blood, or hemolymph, from the bees, big and small. "They're the size to a bee that a bunny is to us."
When asked what it feels like to have his own hive, Sam expressed his appreciation. "I feel responsible and if I make a mistake the hive may die. I enjoy the process and I like seeing the progress since the last time I checked on them." Maintaining a hive doesn't include very many trips to check on the hive, according to Sam. You have to check on the bees every 10 to 14 days to see if they're acting normally. If they feel too crowded, half the hive will leave to scout out another spot. "You have to recognize the clues and stop them."
His father, Brian Mittge, joined the LCBA shortly after Sam's accomplishment. Brian bought his own hive and protective suit in order to share the hobby with his son as well as increase the likelihood of a number of bees surviving. "They can survive the winter if they build up food, though they might catch a disease or the beekeeper will make a mistake. But 40 percent of the hives die from fall to next spring in America, on average. Even if you're good at beekeeping, the number goes down to 20 percent." Brian also says pesticides, or chemicals meant for other insects, get carried back to the hive and infect a large number of bees. The Zika virus brought by mosquitoes is another danger bees face.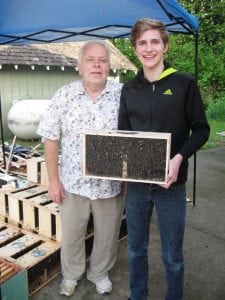 The second winner of the scholarship this year went to Josiah Cowin, a sixteen-year-old homeschooled young man who learned about the scholarship from his mom, thought about it, and wrote the 200-word essay on why he wanted to become a beekeeper. "Without bees, all of our crops would be all of nonexistent," Josiah tells me. "There are other pollinators, but bees are most important. Cows eat the veggies that bees pollinate. Honey and beeswax are used in so many other hobbies too."
When asked how valuable he thought the youth scholarship program was to Lewis County, Josiah says, "Pretty important. I wouldn't have gotten into beekeeping if they didn't have it. The older generations are getting out of it and you need the next generation to get into it. It's a great program to get youth into beekeeping as a hobby."
Though, with this program, a hobby can become a passion, as it did for Josiah's mentor, Gottfried Fritz. At fifteen, he was introduced to the life of a beekeeper through his brother. "I had an older brother that married into a beekeeper family and they were short on help. So, he came and brought me to South Dakota every summer for five years and I developed an interest in it." A beekeeper for 54 years, Fritz is currently a mentor to Josiah along with several other youths. "It's been a lot of fun. He's the age group that I always taught as a high school science teacher. I really enjoy working with him. He's interested and committed to it, along with the others."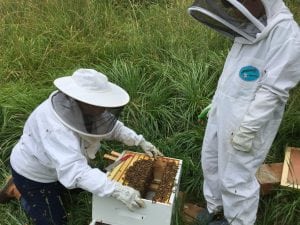 Josiah feels the same way about his mentor and says you form a bond with your mentor. "He's great. His story about how he got in was cool. He's really knowledgeable and I'm glad I got him," says Josiah. When he asked his mentor what happens after the year of mentorship promised is through, Fritz responds, "I'm not going to ditch you."
The LCBA Youth Scholarship program impacted Sam and Josiah positively, as they speak so highly of it. "It's pretty important," Sam says. "If someone wants to be a beekeeper, but doesn't know how they can get that info and start there."
Josiah feels just as strongly for the program. "They're such a family. Whenever you have questions, they're willing to help. They're really nice," he says. "All the kids out there — just go for it. It's a great program. If you're thinking about it at all, just go for it. Why not try it?"
Brian appreciates the program for all it's done for him and his son as well. He believes the LCBA has afforded more than just a simple gift and mentorship, but a lasting impact on children and teens. "It's helpful to get young people engaged and looking towards the future," says Brian. "Kids need good work to do and engage with the older generation and learn to be leaders. They know what's good to do and it builds responsibility and purpose." Brian is also grateful for the help and guidance the LCBA has offered and says it's a lot easier with people guiding you.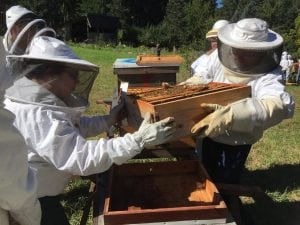 Fritz also sees the great significance the youth program has on the public. "It's quite important because when you get someone interested when they're young and show them how unique and interesting the hobby is, they will probably keep going their whole life. They get a better understanding of bees, which shows how vital the hobby is. People are afraid at first," Fritz says. "The general public is very apprehensive about bees. Honey bees won't bother you like yellow jackets — those grab anything food-like from your picnic. Honey bees might come around for real sweet drink, but otherwise they'll leave you alone. The program helps the public be more aware and there's more of a tolerance."
The LCBA has been in the public's eye since its inception in 2008. This non-profit program survives on member dues and donations only, so if you want to support the current and future beekeepers of Lewis County, you can donate. With more donations, they can include more than two scholarships per year and do even more for the community.
To donate, contact Susanne Weil at secretary@lcba.community. And to see what they do and who they are, visit the Lewis County Bee Keepers website.