Jane Hodges wanted an unusual place for artists to get away and concentrate on their work—to form what artists would call a "colony" or residency where they can get away and focus on their creativity. She found it in the old Mineral School.

"I'm just a crazy gal from Seattle," laughs Hodges as she thinks about the journey that has led her to the town of Mineral. Hodges is a freelance writer, who in recent months has written for the Wall Street Journal, Seattle Times, and as a stringer for a financial news service. But she's always wanted to leverage her interest in creative writing, which has played second fiddle to her journalism career. She has attended Vermont Studio Center, one of the largest residencies in the country, five times. A decade into her life on the west coast, she decided to investigate creating a residency program of similar scale here.
In 2013 and 2014, Hodges attended a conference for people launching residencies via the Alliance of Artist Communities. When she looked at her name badge from the last one, she made a discovery about herself – "This is the first time I looked that happy in a long time," she says.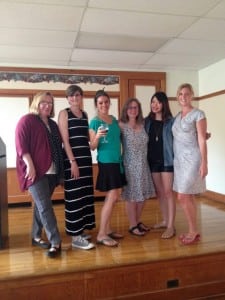 Hodges admits she doesn't have the usual experience one would expect. "Other than working on the board of Lit Crawl Seattle, I don't have a history of running non-profits," she says. She has an Master in Fine Arts in creative writing and a certificate in non-profit management from the University of Washington. In 2012 she wrote a book called Rent vs Own but due to several family emergencies, she wasn't able to enjoy the release or publicize it like she would have liked.
But Hodges feels she comes by the desire to build a residency organization naturally. "As a kid I always wanted to have a bed and breakfast with a bookstore in it, and my grandfather was a book publisher."
When looking for a place to start the residency, Hodges knew she wanted to find a place within a few hours of Seattle and Portland, both large cities with strong artistic roots. Then she discovered Lewis County and the quaint little town of Mineral, with the old Mineral School sitting unused, and Mount Rainier nearby. Two gentlemen had bought the property and remodeled it into an event center, but it went back to the school district and was put up for sale.
Hodges saw the potential and bought the building without any detailed plans in mind. One of the previous owners, Gary Johnson, still lives in the area and has been a tremendous help, according to Hodges. "Gary is key. He has been so generous to share what he knows about the building and he does all sorts of work and provides amazing advice," she says.
The residency program launched last summer with 72 applications for 12 spots. It's an all-volunteer staff, from the board to the chefs, who cook using local produce from Furrow Horse Farm in Morton, among other local farms. People have brought food from their gardens. Gary and another Mineral friend even provided a nice catch of trout for one of the meals.
Hodges can't say enough good things about the town and its residents. "Everyone has been so welcoming," she marvels. "People have loaned us kayaks and canoes to enjoy the lake." One of the local hangouts in town is the Headquarters Tavern where attendees have gone on Saturday nights for karaoke. The owner, Nancy Barnes, invited the group to do one of their readings in the tavern in August.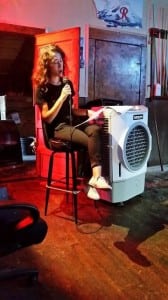 Hodges reports very few obstacles to opening the residency program. "Things have happened pretty quickly," she reports. She's used to working at home alone so she has had to get used to working in a group—where nobody's paid. "The board we have is great, and we'll be adding more members in the near future." Another difference for Hodges is this: "I'm used to living in a large city where no one knows you or what you are doing. In a small community, everyone knows what you're up to."
Mineral School's plans for the future include expanding the number of available slots and to pilot a visual artist residency. "It's all a leap of faith," she explains. "A residency organization is like camp for grown-ups. It's a place where people come to escape their normal responsibilities and live in their creativity for a series on weeks, to be nurtured. It's great to make this happen."
Check out the Mineral School website to apply for residencies, see planned events and readings, or to volunteer. You can also contact Jane Hodges and the rest of the Mineral School board at mineralschoolarts@gmail.com.